FAQs
What kind of jump rope is best for exercise?

A weighted jump rope is ideal for exercise. Weighted ropes create more resistance resulting in greater muscle engagement and a higher caloric burn during your workouts compared to light ropes. Check out our benefits of weighted jump ropes infographic for more information.

What type of jump rope is best for beginners?

Weighted jump ropes are perfect for beginners. If you've tried jumping rope before but got frustrated with tripping, your rope was likely too light. A weighted jump rope slows down your rotations, and the added feel helps you coordinate your jumping rhythm. The 1/2 LB rope from the Get Fit Bundle is the perfect starting point for beginners.

What should I look for when buying a jump rope?

You want to consider a few things when you're buying a jump rope: length, longevity, and your goals.

At Crossrope, we've made choosing a size quick + easy. All of our ropes are sized based on your height, and you can refer to our size chart when you're selecting a rope. Check out the Get Fit Bundle, and you'll see what size options are available.

A few factors play into the longevity of your jump ropes: volume of outdoor use vs. indoor use, frequency + duration of use, temperature, and rope thickness. Crossrope jump ropes are made of a high-grade, durable plastic and steel cable core. You can significantly extend the longevity of your jump rope by using a jump rope mat.

Your fitness goals also play a role in choosing a suitable jump rope. You can take this quiz to find out what jump rope is best for you.

Does it matter what jump rope you use?

Yes, your fitness goals impact what type of jump rope you should use.

If toning and lean muscle is your fitness goal, the Get Lean Set is a great choice. For more muscle engagement, you would want to use something like our Get Strong Set which includes the 1 and 2 LB ropes along with the appropriate handles. For a complete full-body workout, the Get Fit Bundle is where it's at! Each set comes with a set of handles.

Which is better, a speed rope or a weighted rope?

It depends. If you're a beginner, start with a weighted jump rope. If you know how to jump rope and want to learn how to do double unders or other footwork tricks, speed ropes are a great option.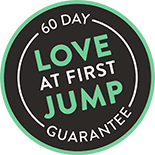 Love your Crossrope or your money back.
Try for 60 days, worry-free.

Change your mind?
Send your ropes back in any shape.

Free US return shipping, full refund,
no questions.