All-new 2023 sets now available! Shop now
The Ropeless Crossrope experience is here! Learn More
Performance 2023 sets are here! Shop now
60-Day Returns
Tangle free design minimizes trip-ups and makes carrying and storing easy
Pairs best with WODprep Slim Handles *not included*
For indoor surfaces only or for use with the jump rope mat.
What makes our ropes different?
Fast Clip Connection: change rope weights quickly
Premium handles: durable, easy-to-grip, backed by lifetime warranty
Fun Workout Access: new app workouts added weekly
Easy 60-Day Returns: We're giving you 60 days to test your ropes. Wrong size? Not for you? Get an exchange or refund. 
Lifetime Handle Warranty: Have an issue with your handles? We'll repair or replace.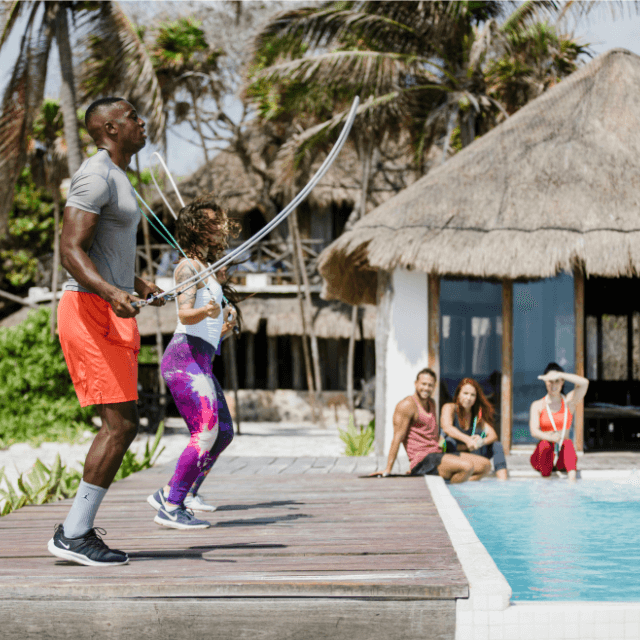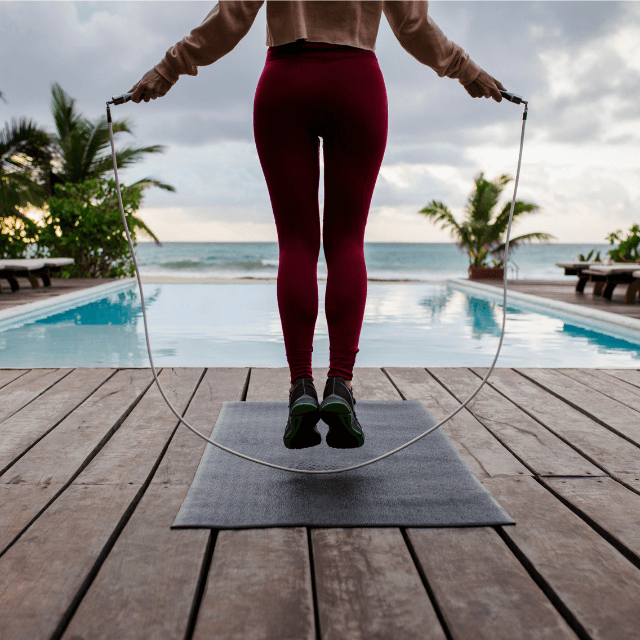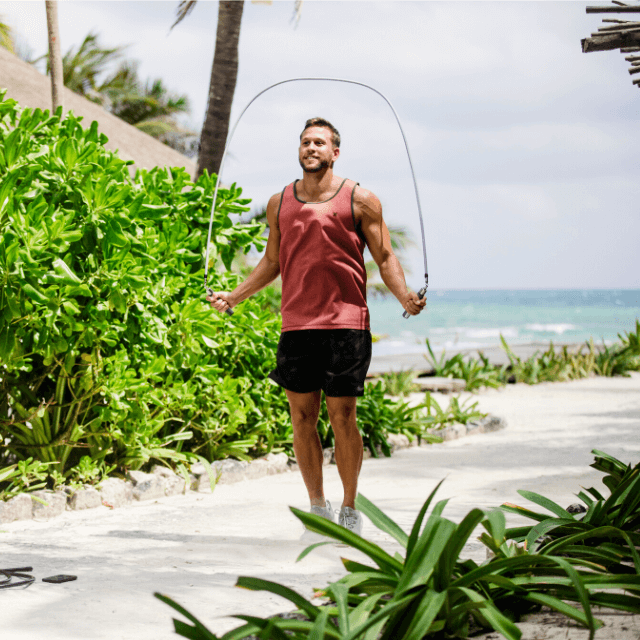 Perfect for
Double Unders Unleashed
WODprep's here to help athletes from all over the world break through their sticking points, hit new PR's, and learn to Rx every workout. We want people to see what their bodies are truly capable of.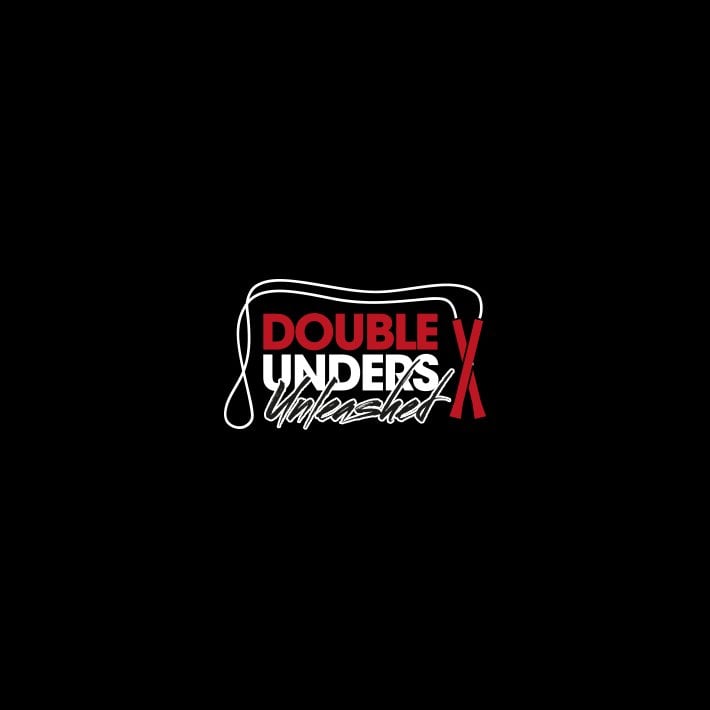 Size Guide
Choose the right rope length for you based on your height.
If you are in-between sizes, and you're a beginner, the larger size is usually preferable because it allows more room for error. If you are more experienced, then the smaller size tends to be better. If you currently have a rope that you are comfortable jumping with, we recommend measuring your current rope, not including the handles, for a comparison.
Looking for shorter ropes? We have limited quantities of XXS/XS sizes available here.
Still need assistance? Watch sizing video
Standard
| Size | User Height | Rope Length |
| --- | --- | --- |
| Ropeless | - | 14" |
| XX-Small | 4'0" - 4'5.5" | 7'0" |
| X-Small | 4'6" - 4'11.5" | 7'6" |
| Small | 5'0" - 5'4" | 8'0" |
| Medium | 5'4.5" - 5'9" | 8'6 |
| Large | 5'9.5" - 6'1.5" | 9'0" |
| X-Large | 6'2" - 6'9" | 9'6" |
Metric
| Size | User Height | Rope Length |
| --- | --- | --- |
| Ropeless | - | 35.5cm |
| XX-Small | 1.22m - 1.36m | 2.13m |
| X-Small | 1.37m - 1.51m | 2.29m |
| Small | 1.52m - 1.63m | 2.44m |
| Medium | 1.64m - 1.75m | 2.59m |
| Large | 1.76m - 1.87m | 2.74m |
| X-Large | 1.88m - 2.06m | 2.90m |
Try risk-free for 60 days
CROSSROPE LOVE AT FIRST JUMP
One thing we've learned is that it's hard to describe what the Crossrope workout truly feels like until you try it yourself. Using weighted jump ropes is unlike any workout you've experienced, which is why we're confident you're going to love it from your very first jump.
60 DAYS TO JUMP - OUR GUARANTEE
To make your decision easy, we're giving you 60 days to use our ropes as much as you'd like so you can see the difference for yourself. If you aren't convinced, you can return them for free*, no questions asked.
OUR RETURN POLICY
Our return policy applies to any of our physical products (for apparel returns, your items must be tagged and unworn and in original packaging). Please note our return policy does not apply to subscription products including our Crossrope Membership.
FREE STANDARD SHIPPING
All orders ship free over $50 with ground shipping. Shipping is always free for returns (US only).
*Free returns apply to US customers only. $40 restocking fee for Jump Zone Flooring returns.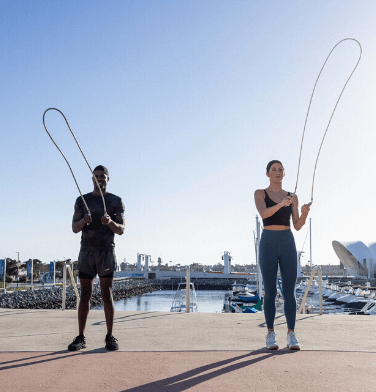 Are You Ready to Rise Up?
Love your Crossrope or your money back.
Try for 60 days, worry-free.
Change your mind?
Send your ropes back in any shape.
Free US return shipping, full refund,
no questions.
Looking for Something Else?
SHOP MORE ROPES
WODprep 2 oz Rope Reviews
Total 5 star reviews: 2
Total 4 star reviews: 1
Total 3 star reviews: 0
Total 2 star reviews: 0
Total 1 star reviews: 0
100%
would recommend this product
Has really helped

I've been doing CrossFit for nearly 4 years and always struggled with my double unders. The ropes at the gym just weren't helping. I bought my own speed rope, but it didn't help either. I just couldn't get a feel for the rope. Since using the CrossRope, I've definitely progressed and got my first 10 DUs just the other day. The 2oz rope has a good weight to it that you can feel. I'm excited to keep progressing. The handles too are solid and have a great feel. My only gripe is that the rope/handle doesn't have the smoothest turn over and feels a bit sticky or bumpy.

Ropes are great. Heavy ropes

Ropes are great. Heavy ropes helped me to jump higher while doing double unders with speed rope. Customer service is excellent.

The equipment is top notch,

The equipment is top notch, and well made. I have the misfortune of being in between sizes wherein the size below is a tad too short (so I have to hold the ends of my handles) and the next size up was simply too long. I have been able to make adjustments to my technique to compensate. But this is my issue, and not the manufacturer's so I could not in good conscience give them less than the 5 stars they deserve for having such a well made and engineered product. The differing rope weights are significant enough to notice, and have had the desired effect on my workouts. I never would have thought that a few ounces would have such an effective influence on my jump rope speeds and workouts.

The wonderfully designed and structurally sound quick release system for switching out the different ropes is ingenious. Crossrope has more than earned the 5 star rating I've given them. Well done!
Reviews Loaded
Reviews Added
FAQs
How should I determine my size?

All of our ropes are sized to your height. The recommended user height ranges are provided on all of our product pages. Please note that our ropes are NOT adjustable. For further guidance, please see our jump rope sizing page. If you need a shorter size, we have XS/XXS available upon request.

How much space do I need to jump?

The recommended space needed for jumping rope is 10 ft front-to-back, 7 ft side-to-side, and a ceiling height that is roughly equal to your rope length. So if you order size Small, you need at least 8 ft of ceiling height. If you order size Medium, you need at least 8'6" ft of ceiling height. If you order size Large, you need at least 9 ft of ceiling height. And if you order size XL, you need roughly 9'6" of ceiling height. Please make sure your jumping space is clear and that you do not have anything on your ceiling that would obstruct your jumping (lighting fixtures, ceiling fans, etc.).

What warranty does Crossrope offer?

Our redesigned Slim and Power handles are covered by our lifetime warranty. That means if you ever experience any issues with your handles, our support team will provide you with a replacement right away. Please note that our previous generation handles and limited edition handles are still covered by our 2 year warranty and that our ropes are not covered by a warranty. For full details, please review our Product Use and Warranty policy.

What is Crossrope's exchange / return policy?

We have a 60 day no-hassle returns and exchange policy which means you can try the ropes, use them on any surface, and still return them if you don't love them. If you are purchasing our ropes as a gift, you can be sure that if your gift receiver needs a size or product exchange, we'll be there to help.

Does Crossrope offer gift cards?

Yes! Get your Crossrope Gift Card here.