The World's Best Weighted Jump Ropes
Tackle your fitness goals and start seeing the powerful benefits of a weighted jump rope today!
What are the benefits of a weighted jump rope?
Weighted jump rope training is one of the best-kept secrets in the fitness world, but that's about to change. A weighted jump rope workout supports various fitness goals from weight loss, endurance, coordination, balance, and conditioning. Below you'll find information about the four core benefits of incorporating a weighted jump rope into your fitness routine.
#1
You Burn More Calories
Do weighted jump ropes burn more calories than other exercises? Absolutely! With a weighted jump rope, you double your calorie burn. Research has shown that jumping rope can burn over 1000 calories an hour. Compared to other activities, jumping rope is one of the most efficient forms of exercise you can do when it comes to calorie burning.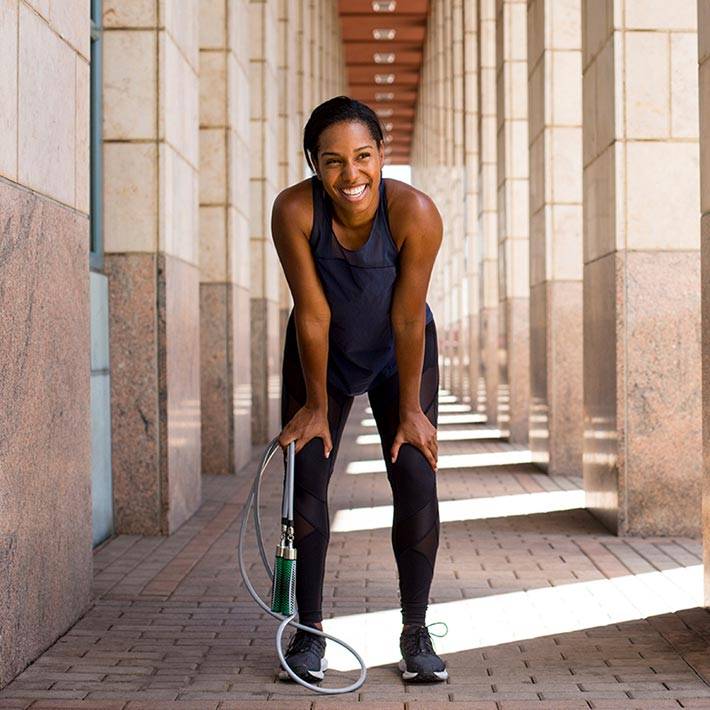 #2
You Learn Faster
Weighted jump ropes slow down your rotations and offer just enough physical feedback to help you get the rope's correct feel. As a result, you can perfect your timing and coordination naturally. Knocking out the learning curve leads to less frustration, fewer mistakes, and much faster skill development than light ropes.
#3
Greater Muscle Engagement
Weighted jump ropes offer added resistance causing you to activate and engage more muscle groups with every rotation. You can work on core strength, upper body strength, grip strength, and more in a single workout with weighted jump ropes. After an intense 20-minute workout, you'll feel like you've accomplished a full-body training session.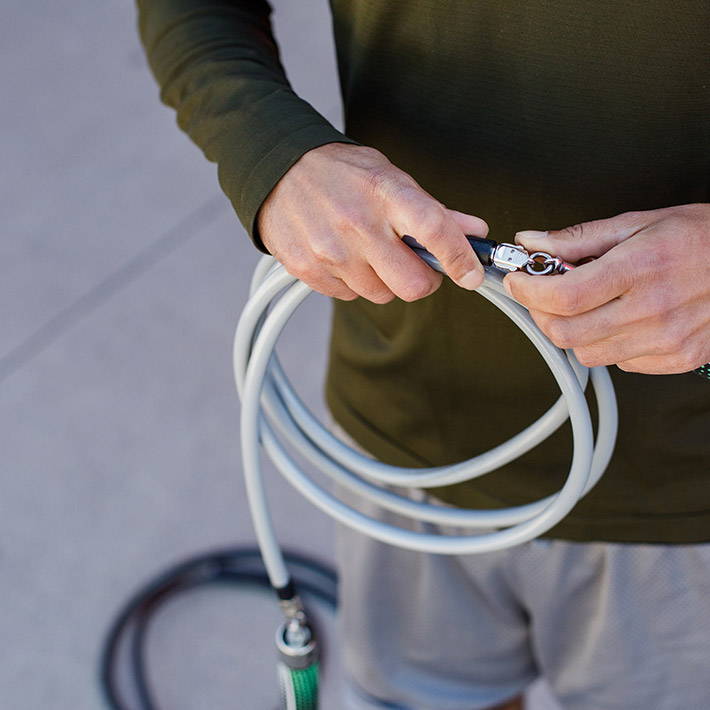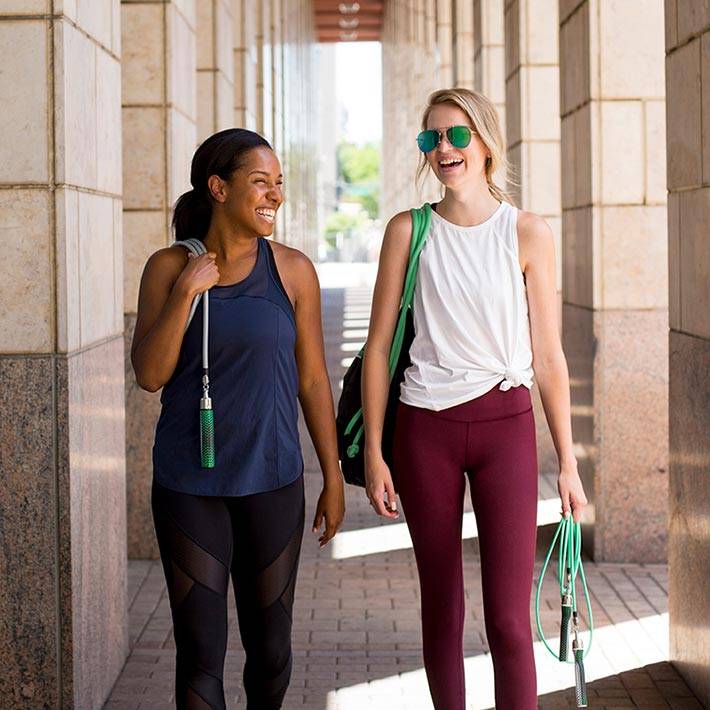 #4
It's fun and versatile
With weighted jump ropes, you'll have a diverse range of training options. Not only are weighted jump ropes good for cardio and HIIT workouts, but they're also excellent for strength, endurance, and performance training. Weighted jump ropes can easily be incorporated into warm-ups and cool-downs; they can be used indoors and outdoors; they make a perfect addition to other training tools like weightlifting and much more.
Choose Your Ropes
Save up to $60 and get free US shipping.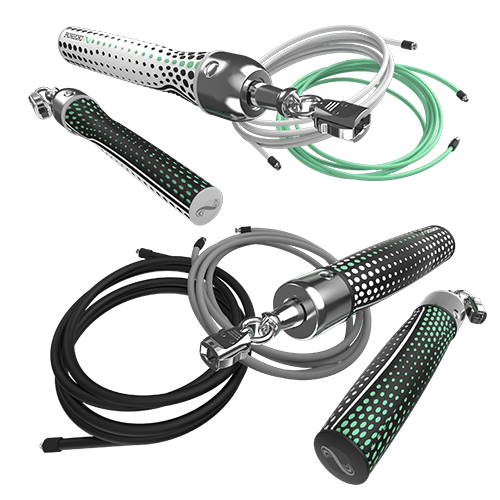 Get the complete jump rope workout anywhere when you bundle our light and heavy jump rope sets.
4 payments of $57 with deal +
*
Get $60 off with code NEW60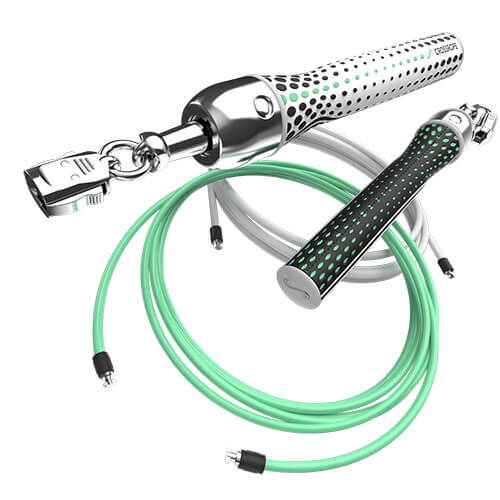 Burn fat, boost cardio, and build lean muscle with our light jump rope fitness set.
4 payments of $25 with deal +
*
Get $20 off with code NEW20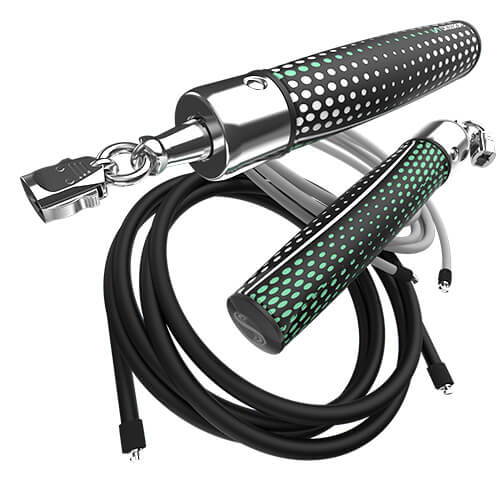 Build strength and power with increased muscle activation with our heavy jump rope set.
4 payments of $37 with deal +
*
Get $20 off with code NEW20
Shop Heavy LE
The set designed for advanced strength and endurance training. Choose your challenge with our special limited edition handles and jump ropes, featuring 3/4 LB, 1 1/2 LB, and 3 LB ropes.

Get your Heavy LE set and save $20 with code HEAVY20
Limited quantities available. Some sizes may be sold out.
The limited edition set designed for your next heavy rope challenge with increased muscle activation.
Shop Ultra Heavy LE
Introducing our heaviest and most challenging jump ropes to date featuring 4 LB and 5 LB ropes. These weighted jump ropes are designed for experienced jumpers looking for the ultimate heavy rope challenge. Not recommended for beginners.
Limited quantities available. Some sizes may be sold out.
Love your Crossrope or your money back.
Try for 60 days, worry-free.
Change your mind?
Send your ropes back in any shape.
Free US return shipping, full refund,
no questions.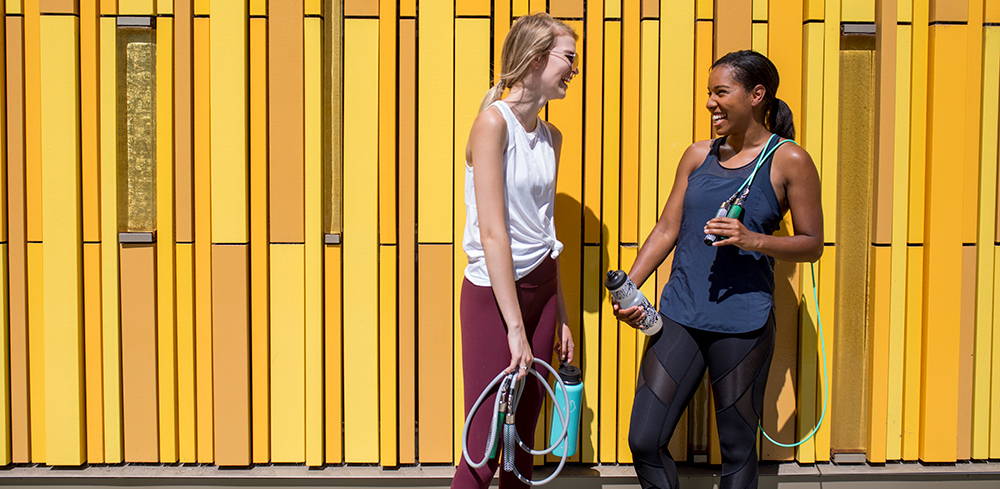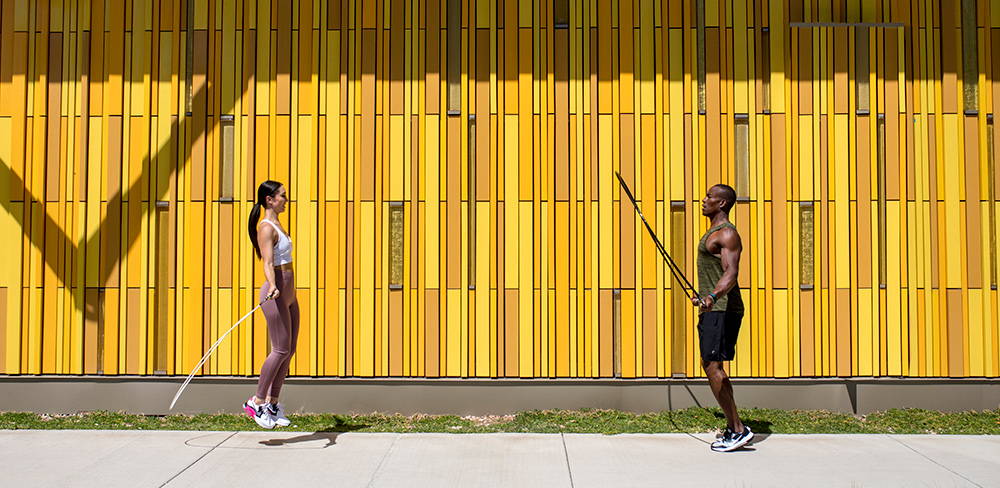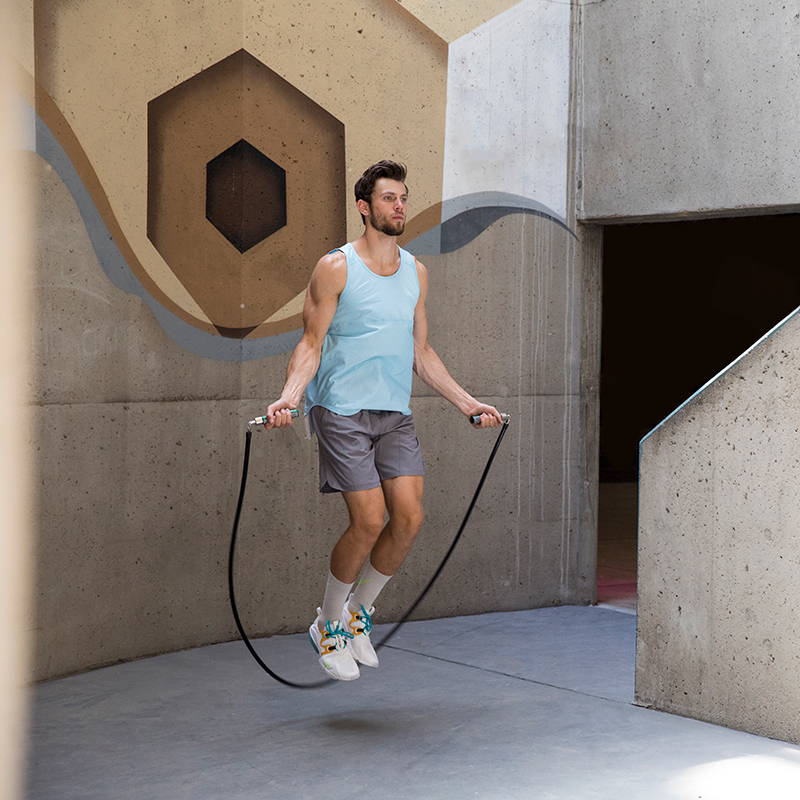 Your weighted jump rope questions, answered
How do weighted jump ropes work?
The design of a weighted jump rope is really important. Crossrope's weighted jump ropes distribute the weight throughout the rope, which allows them to move consistently around your body. More centrifugal force creates a faster rotation, which activates more muscle groups to handle the power. By spreading the weight throughout the jump rope, our weighted jump ropes offer much more dynamic resistance resulting in a far better full-body workout compared to light ropes.
Is there a difference between weighted ropes and weighted handles?
There are two issues with weighted handles. First, since you're holding the handle in place at all times, the weight doesn't move exceptionally fast or far. As a result, your body doesn't have to work very hard to move that weight. The other issue is when the handle is heavier than the rope it can negatively impact your rhythm and coordination. When the weight is in the rope itself, you activate more muscle groups leading to better results.
Are weighted jump ropes suitable for beginners?

Absolutely! Weighted jump ropes are great for beginners. If you've tried jumping before but got frustrated with trip-ups and mistakes, it's likely that your rope was too light. A weighted jump rope slows down your rotations and the added feel helps you coordinate your jumps.
Do weighted jump ropes build muscle?
Yes, they do. Traditionally jump ropes aren't the first fitness tool that comes to mind if you're looking to build strength, but weighted jump ropes actually engage a lot of different muscle groups. When the weight is distributed throughout the jump rope, you're bracing your entire upper body (arms, shoulders, back and core). You end up building muscle because the additional resistance generates more force that you have to control.
What muscle groups do weighted jump ropes target?
Weighted jump ropes target calf muscles, glutes, abs, oblique muscles, forearms, biceps, triceps, shoulders, back muscles, and chest muscles.
Do weighted jump ropes burn more calories than light ropes? 
Yes, weighted jump ropes burn more calories than light ropes. When you use a weighted jump rope all the benefits are amplified. Your body needs to work harder to swing a 1 LB rope than it does to swing a light rope. More muscles are active, you expend more energy, and burn more calories in the same amount of time. With a weighted jump rope, you get more out of every jump.
Are weighted jump ropes more effective than running?
A lot of people debate between running or jumping rope. Well, weighted jump ropes are a great calorie-burner. You'd have to run an eight-minute mile to work off more calories than you'd burn jumping rope. Also, with running or jogging, you put a direct impact on your heel, whereas jumping rope allows you to use your body's natural shock absorbers. Using a weight jump rope is a much lower impact exercise compared to running.