Integrate Cardio into Your Weightlifting Routine with Crossrope
Burn fat without losing strength with weighted ropes and custom workouts.️
Shop Now
Try Risk-Free
for 60 days
Burn More
Calories per Hour
300
Walking
550
Swimming
600
Jogging
700
Cycling
1,074
Crossrope
Push Your
Progressive Overload
Challenge your muscles and stimulate growth with heavier weighted ropes. By gradually increasing or alternating rope weights you will work all major muscle groups at one time while combining cardio and strength training into one.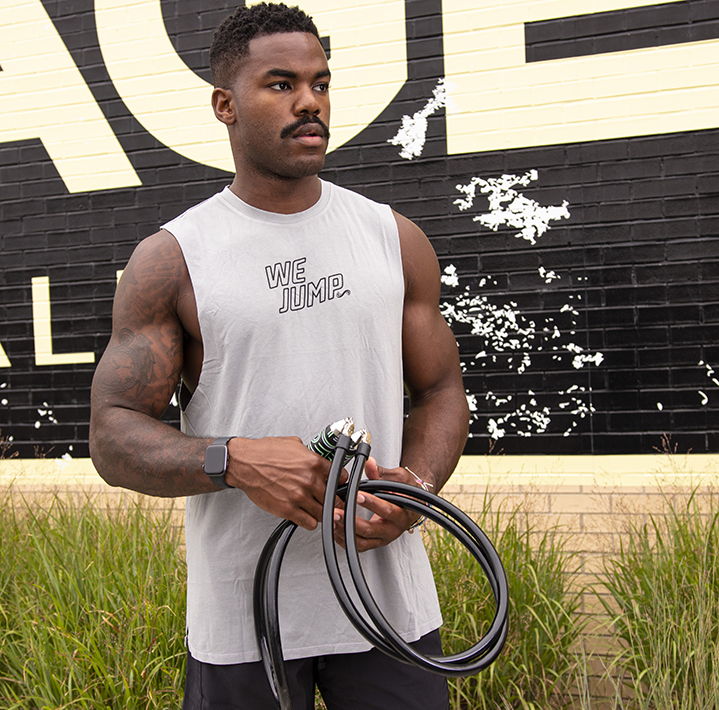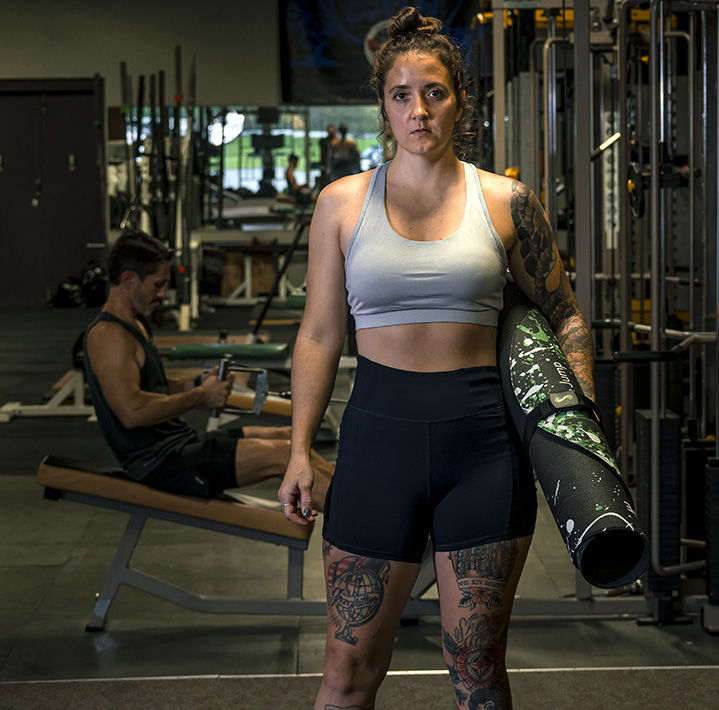 No More
Boring Cardio
Weighted ropes provide a fun and effective cardiovascular alternative that can help weightlifters improve endurance, agility, and footwork while burning more calories in less time. It can be done in short, high-intensity intervals to improve speed and power or even as an active recovery between sets or on rest days.
Supplment For Any
Weightlifting Routine
Using compound exercises and plyometrics, Crossrope's weighted ropes and app work together to build overall strength, power, speed, and agility - helping you avoid plateaus in your weightlifting progress.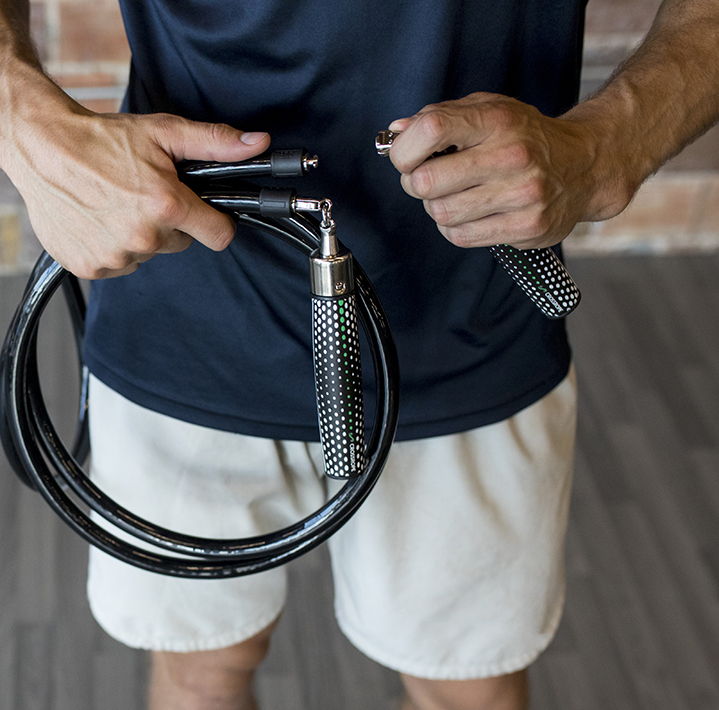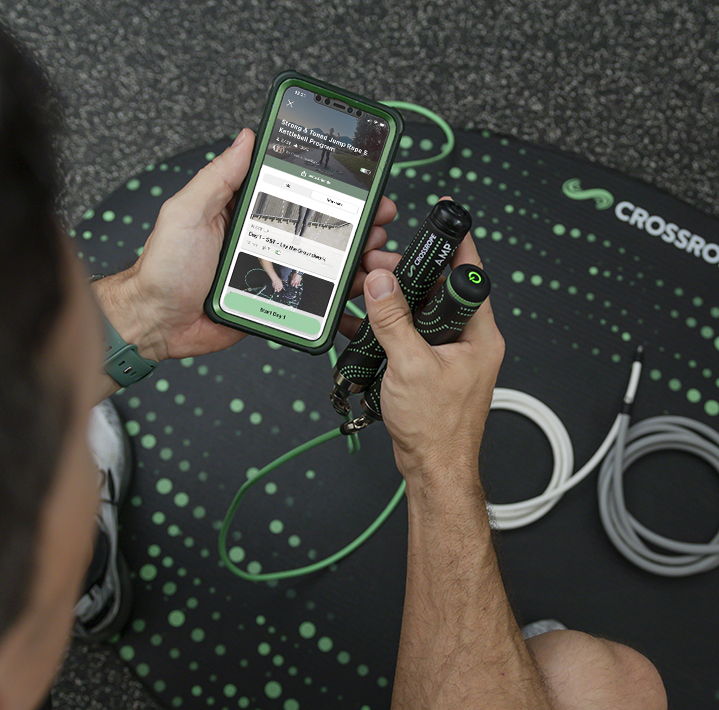 Don't Be
Tied to the Treadmill
With its portability, you can easily incorporate Crossrope into your home, gym, or travel workouts. Our ropes are designed to be taken anywhere and include a high-strength fast clip connection system so you can quickly switch between rope weights without coiling or tangling.
From our customers
Game Changer!

The AMP handles are a game changer. Racing the pace bar during workouts is very motivating. The jump counting is accurate and frees you from having to worry about getting an accurate count from the app.

Tristan M. | AMP Customer
What Are You Waiting For

Best jump ropes period! The Get Fit Bundle gives you everything you need. You get cardio and a full body workout, a one stop shop if you will. I would recommend the jump ropes to everyone. Not only will these jump ropes change you physically, but they will change you mentally as well.

James M. | Get Fit Bundle Customer
Quality Is Incredible!

Right out of the box I have to say that the build quality is incredible! I've never felt a jump rope quite like this that inspires confidence with every jump. If you're still on the fence about the cost like I was then take the leap and go for it because if you're anything like me then you won't regret it.

Devin P. | Get Lean Customer
Love Crossrope!

Just used my new AMP handles and small ropes. Must admit I was really disappointed… that it didn't come out sooner. A real game changer! A new passion for my jumping. Every jump is a new contest against my personal best. I do trip a bit more since I'm going much faster but that too will pass! Love Crossrope!

Keith | AMP Customer
Tell Your Friends

I've been telling my friends for years I wish I could have someone count each jump for me and now Crossrope has done that. It connects super easily to your handles, and the app tracks all kinds of metrics. My favorite is the stream of consecutive jumps. Also, I havent had to charge the handles yet after 2 weeks!

Ash C. | AMP Customer
These Are Incredible

I don't think I'll ever go back to another jump rope. These are incredible. They really have been a game changer in my workouts because I'm hitting more jumps in a row and stopping less frequently from missed jumps due to the smooth rotation in the handles.

Joseph C. | Get Lean Customer
Love, Love, Love

Doubled my work out intensity on Strava once I added the AMP handles. I absolutely love the handles. It's like racing a ghost in Super Mario Kart time trials. Makes you want to beat the black bar and show it who's boss. Much like using a Peloton bike the stats are a blast and it gives you great motivation. Love it!!!

Adam | AMP Customer
Worth Every Penny!

Stop thinking and just order these handles. They are going to be your favorite handles ever. If you are already using Crossrope, you need to get these handles. My progress has been through the roof in the one month that I've been using them. Worth every penny, and more!

Scott S. | AMP Customer
Tracks Your Jumps

I've been using crossropes for years. I recently just purchased the AMP handles. They are a great investment to track your jumps and give you goals to accomplish in your exercise. I also love the weight they have to them.

Patrick B. | AMP Customer
Choose Your
Jump Rope Set
★★★★★ 4.8 (20,000+ Reviews)
Choose Your
Jump Rope Set
★★★★★ 4.8 (20,000+ Reviews)
New Bluetooth connected jump rope set offers a fun & immersive workout experience. Comes with AMP Handles and ¼ LB, ½ LB, and 1 LB ropes. US only.
4 payments of $50 with
*
The classic, interchangeable weighted jump rope system for those who simply want high quality jump ropes they can take anywhere.
4 payments of $72 with
*
Love your Crossrope or your money back.
Try for 60 days, worry-free.
Change your mind?
Send your ropes back in any shape.
Free US return shipping, full refund,
no questions.
How can I integrate the Crossrope Jump Rope System into my weightlifting routine?
The Crossrope Jump Rope System is a versatile and easy addition to any weightlifting routine. You can integrate it as a warm-up, a fast workout finisher, or a full cardio session in between your lifting sets. Our interchangeable ropes allow you to easily switch between different weights to add variety and challenge to your workout. Plus, with the Crossrope app, you can access thousands of follow-along jump rope workouts that will help you burn fat without losing strength.
Which jump rope set is right for me?
Choosing the right jump rope set depends on your fitness goals and preferences. If you're looking for a more immersive and high-tech experience, the AMP Jump Rope Set with Bluetooth connectivity may be the right choice for you. It comes with three weighted ropes and AMP handles to provide a full-body workout. If you prefer a classic, versatile option, the Crossrope Classic may be the perfect fit. It also has interchangeable weighted ropes and can be used anywhere without the need for a membership.
How should I determine my size?
All of our ropes are sized to your height. The recommended user height ranges are provided on all product pages. For further guidance, see our sizing page
here
.
How much space do I need to jump?

The recommended space needed for jumping rope is 10 ft front-to-back, 7 ft side-to-side, and a ceiling height that is roughly equal to your rope length.

So if you order size Small, you need at least 8 ft of ceiling height. If you order size Medium, you need at least 8'6" ft of ceiling height. If you order size Large, you need at least 9 ft of ceiling height. And if you order size XL, you need roughly 9'6" of ceiling height.

Please make sure your jumping space is clear and that you do not have anything on your ceiling that would obstruct your jumping (lighting fixtures, ceiling fans, etc.).
What is Crossrope's exchange / return policy?
We're excited to offer our 60 day no-hassle returns and exchange policy. For those of you who are purchasing our ropes as a gift, you can be sure that if your gift receiver needs a size or product exchange, we'll be there to help. Please see our Exchange and Return Policy.