Get your friends to join in on the fun. See our instructions below.
---
1. Invite Your Friends
Invite your friend to join in the challenge and keep each other accountable.
2. Get Your Ropes
The only tool you need for this challenge is a jump rope. If you don't have a jump rope or you'd like to see how a set of weighted ropes can help you get the best fitness results, click below to learn more.
3. Download the App
Take your challenge workouts wherever you go.
Your Workout, Anywhere
---
We believe a great workout can be done anywhere, even at home. With the free Crossrope Lite app, get quick workouts and fun challenges wherever you go.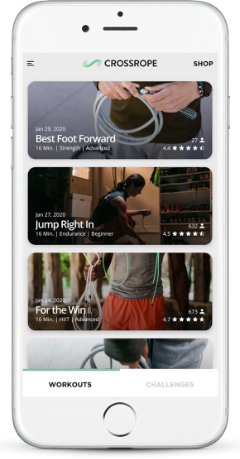 ---
4. Join Our Community
Get the inspiration and accountability you need to reach your goals.
The Facebook community is an optional (but helpful) component of the challenge. It's a great place to get support, motivation, and answers to your questions. It's also a great accountability tool and a fun place to meet other jumpers. If you're not on Facebook, feel free to skip this part!