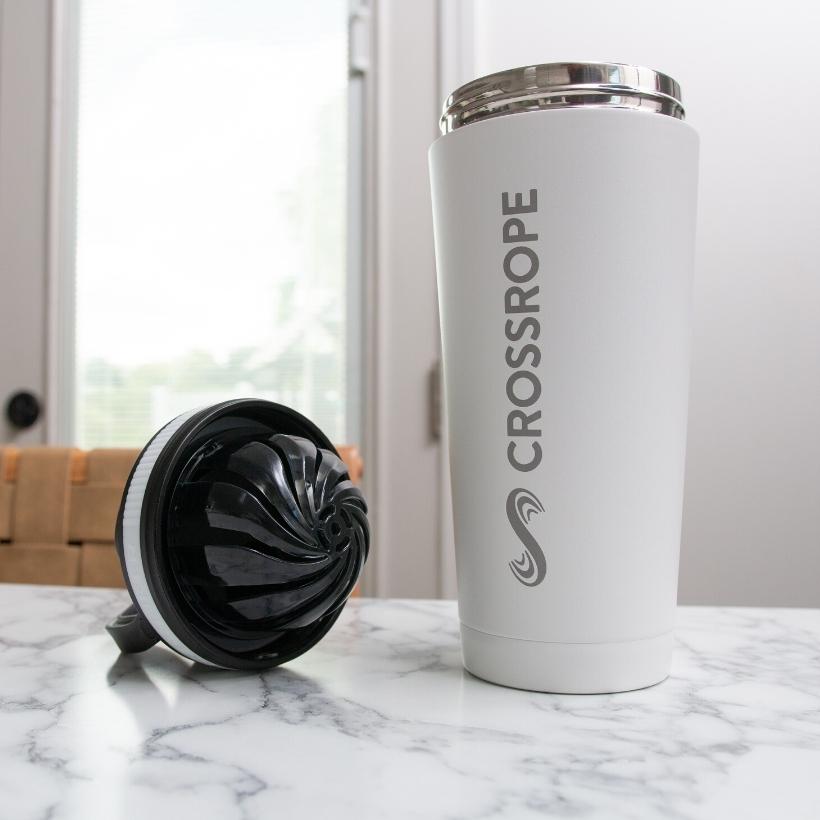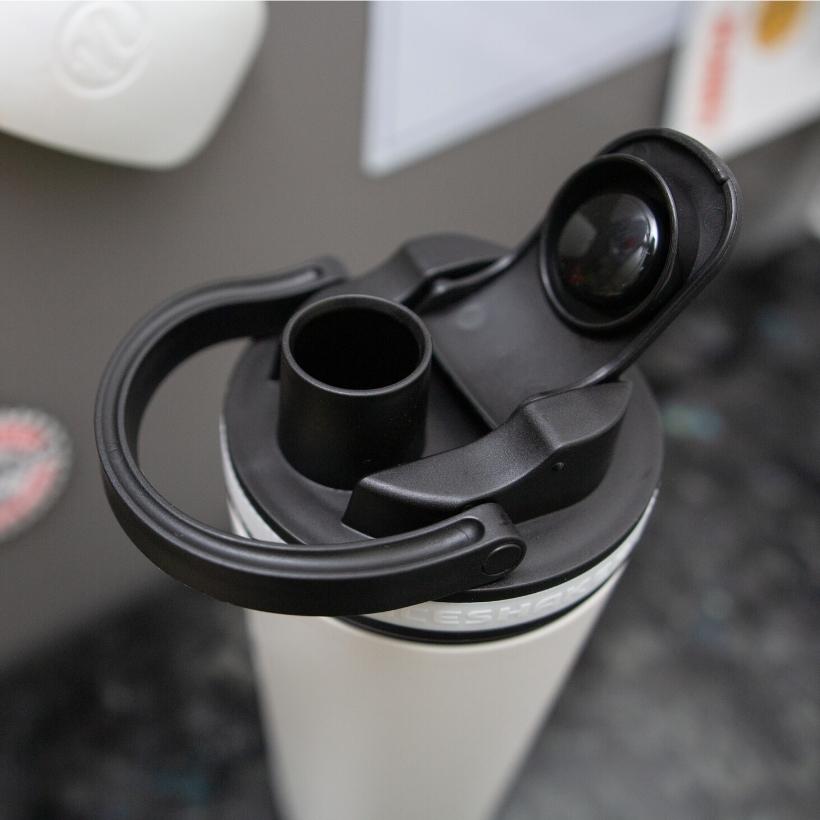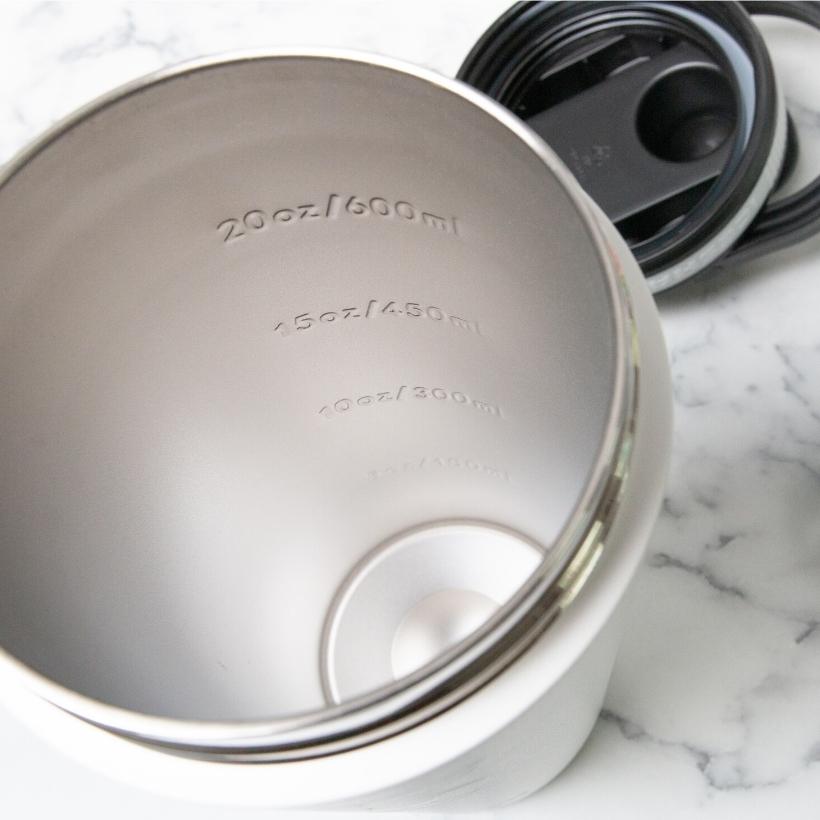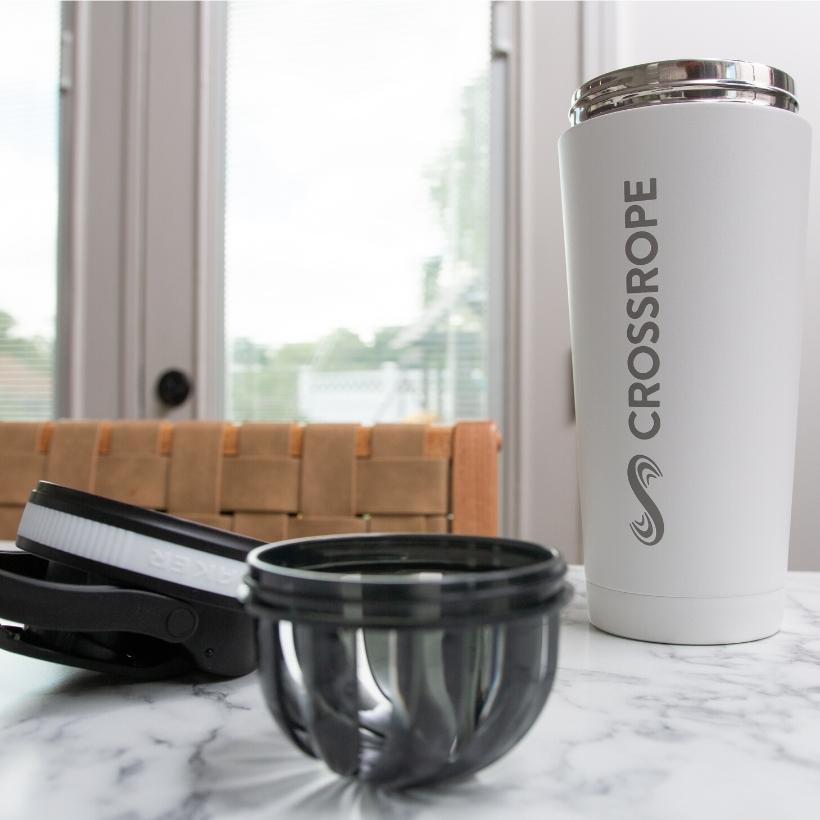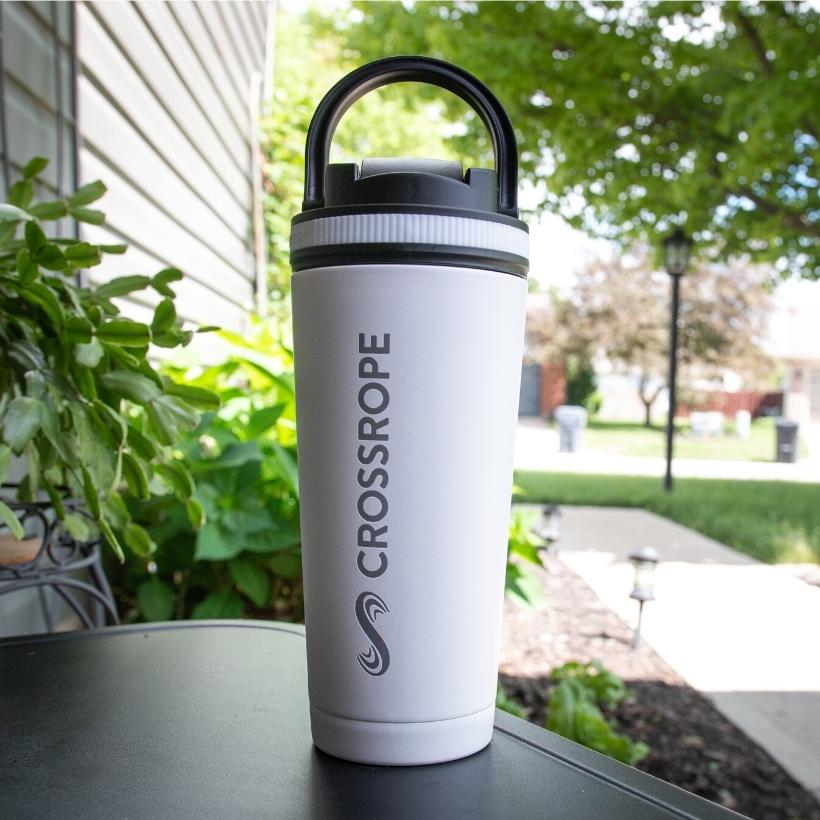 Custom Ice Shaker 26 oz Bottle
Premium quality double wall vacuum insulated
Keep drinks cold for for 30+ hours or drinks hot for 12 hours
Spill proof secure lid with patented removeable agitator, blends protein powder with ease
Fits all standard size cup holders and backpacks
Dimensions: 2.75" Base 3.25" Top 10" Tall
Top rack dishwasher safe. Low heat drying is recommended. Lids are dishwasher safe.
Easy 60-Day Returns: We're giving you 60 days to love it. Not for you? Get an exchange or refund. 
Put a Lid On The Competition
The Ice Shaker lid is uniquely designed with a patented removable agitator for ease of cleaning, a double snap top to ensure your liquids won't spill, and a flip up carry handle to make it easy to haul around.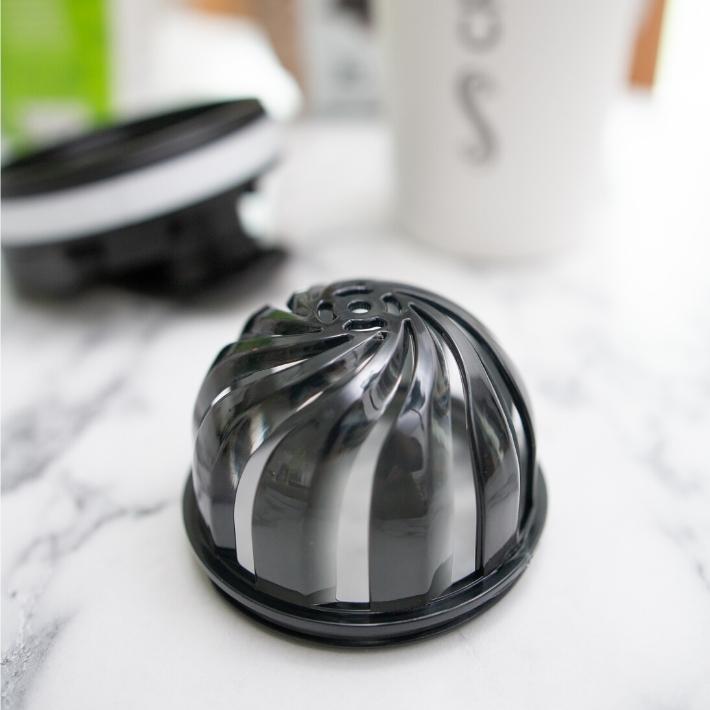 Quality Constructed
Constructed with kitchen-grade stainless steel, and double wall vacuum insulated, our 26oz Ice Shaker will hold ice for 30+ hours, won't sweat, and does not absorb odor.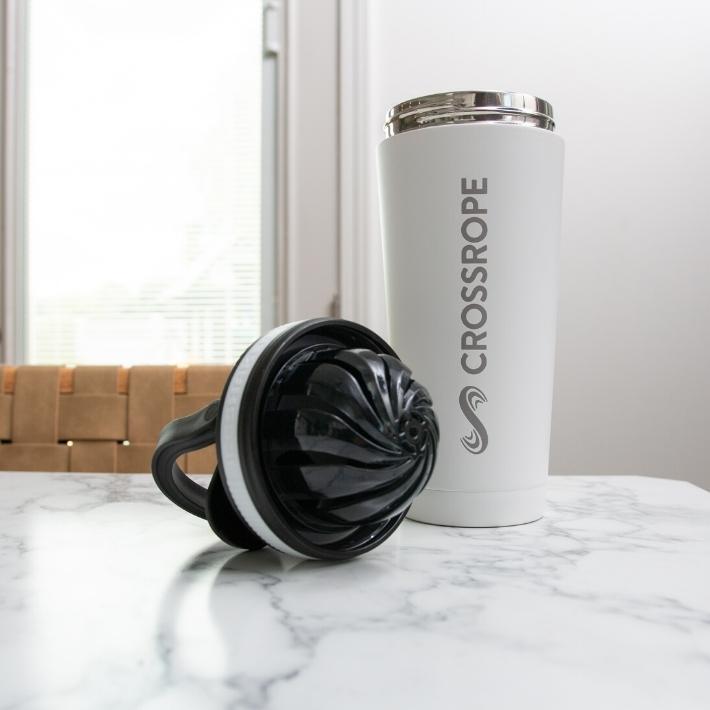 Take It Anywhere
The 26oz ice Shaker has a tapered design that allows it to fit into any standard sized cup holder. Take your favorite beverage on the go and keep it cold for hours!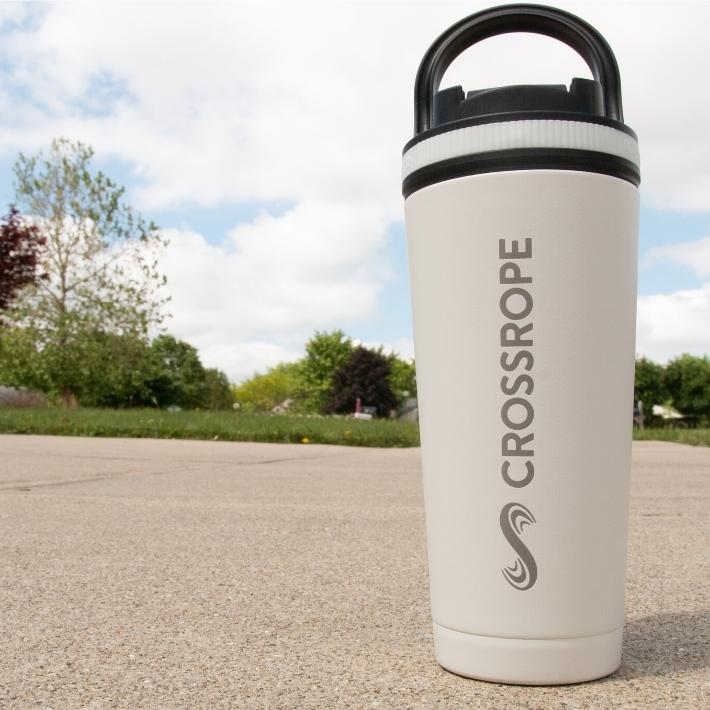 Let's Shake Things Up
Equipped with internal measurement markers, this shaker makes it easy for you to add the perfect amount of liquid to mix up any tasty concoction. The patented agitator makes it easy for you to break up powders, or add fruit and infuse your drink wiht a fruit of your choice.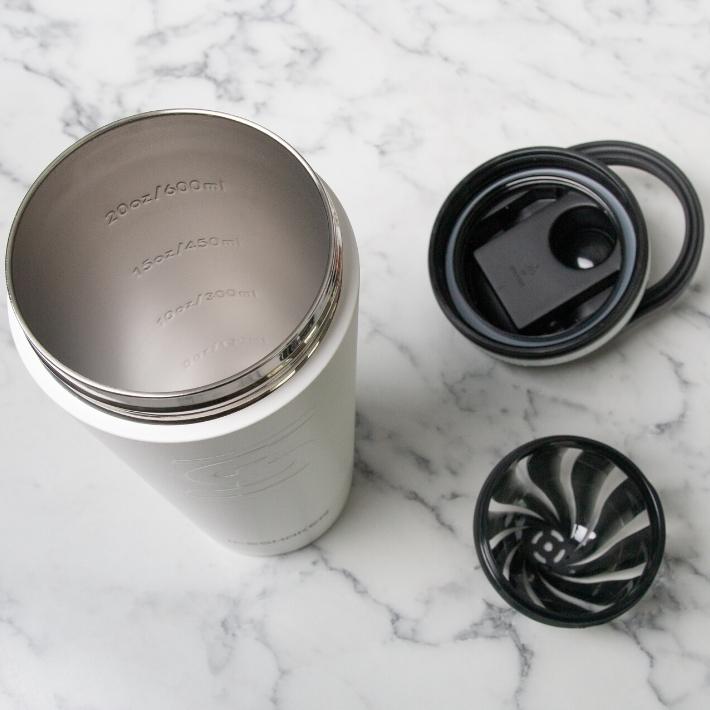 Size Guide
Choose the right rope length for you based on your height.
If you are in-between sizes, and you're a beginner, the larger size is usually preferable because it allows more room for error. If you are more experienced, then the smaller size tends to be better. If you currently have a rope that you are comfortable jumping with, we recommend measuring your current rope, not including the handles, for a comparison.
Looking for shorter ropes? We have limited quantities of XXS/XS sizes available here.
Still need assistance? Watch sizing video
Standard
| Size | User Height | Rope Length |
| --- | --- | --- |
| Ropeless | - | 14" |
| XX-Small | up to 4'6" | 7'0" |
| X-Small | 4'6.5" - 5'0.5" | 7'6" |
| Small | 5'1" - 5'4.5" | 8'0" |
| Medium | 5'5" - 5'9.5" | 8'6 |
| Large | 5'10" - 6'1" | 9'0" |
| X-Large | 6'1.5"+ | 9'6" |
Metric
| Size | User Height | Rope Length |
| --- | --- | --- |
| Ropeless | - | 35.5cm |
| XX-Small | up to 1.37m | 2.13m |
| X-Small | 1.38m - 1.54m | 2.29m |
| Small | 1.55m - 1.64m | 2.44m |
| Medium | 1.65m - 1.77m | 2.59m |
| Large | 1.78m - 1.86m | 2.74m |
| X-Large | 1.87m+ | 2.90m |
Try risk-free for 60 days
CROSSROPE LOVE AT FIRST JUMP
One thing we've learned is that it's hard to describe what the Crossrope workout truly feels like until you try it yourself. Using weighted jump ropes is unlike any workout you've experienced, which is why we're confident you're going to love it from your very first jump.
60 DAYS TO JUMP - OUR GUARANTEE
To make your decision easy, we're giving you 60 days to use our ropes as much as you'd like so you can see the difference for yourself. If you aren't convinced, you can return them for free*, no questions asked.
OUR RETURN/EXCHANGE POLICY
Our return/exchange policy applies to any of our physical products (for apparel returns, your items must be tagged and unworn and in original packaging). Please note our return policy does not apply to subscription products including our Crossrope Membership. Products sold in "Deals" or "Like New" are limited to size exchanges only.
FREE STANDARD SHIPPING
All orders ship free over $50 with ground shipping. Shipping is always free for returns (US only).
*Free Returns and Exchanges apply to US customers only. $40 restocking fee for Heavy Duty Gym Floor Tiles returns. International returns will need to cover the shipping costs. For more information please visit our help center.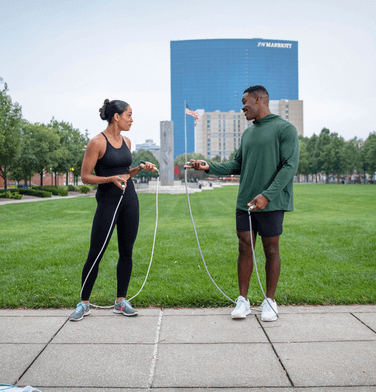 Are You Ready to Rise Up?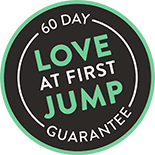 Love your Crossrope or your money back.
Try for 60 days, worry-free.

Change your mind?
Send your ropes back in any shape.
Free US return shipping, full refund,
no questions.
Looking for Something Else?
SHOP MORE ROPES
FAQs
What's a shaker bottle used for?

They are best suited for cold nutrition shakes, water and sports drinks. The Crossrope branded Ice Shaker Bottle features a spill/leak proof, pop-top style lid with removable agitator. The patented agitator can be used to silently and seamlessly blend nutrition shakes, infuse your drink with fresh fruit and strain ice (no more clogged spouts).

Are Ice Shaker bottles/tumblers dishwasher safe?

Ice Shaker bottles and tumblers are top rack dishwasher safe. It is recommended that you use low heat drying. Lids are dishwasher safe however, there is a rubber seal inside the 26oz Shaker lids that may need to be removed and cleaned from time to time. To do this, simply use a butter knife (or similar dull object) and gently pry the seal out. Wash the seal and insert it back into the bottom of the lid. When you do this, be sure that the seal is not twisted and is sitting flat to ensure that there will not be any leakage.

How long will my Ice Shaker keep my drink cold?

Up to 30 hours! The amount of ice and the temperature of the liquid you put into your Ice Shaker will affect how long your drink stays ice cold. To maximize the effectiveness of your Ice Shaker, it is recommended to fill it up with ice and pouring already-cool liquid into it. If minimal ice is used or warm/room temperature liquid is poured in, a lot of the ice will immediately melt before the cup even gets the chance to show off it's insulating abilities.

What warranty does Crossrope offer?

There is no warranty on Crossrope x Ice Shaker bottles.

What is Crossrope's exchange / return policy?

We have a 60 day no-hassle returns and exchange policy which also covers the Ice Shaker bottle.

Does Crossrope offer gift cards?

Yes! Get your Crossrope Gift Card here.