Double Unders: The Ultimate high intensity jump rope skill
Our weighted jump rope sets are guaranteed to take your double under progression to new heights.
Shop Sets
Try Risk-Free
for 60 days

AMP™ Double Under Training Set
Our Bluetooth connected jump rope set is perfect for double unders, providing a comprehensive workout experience. With the TargetTrainer™ feature, you can compete against yourself, pushing your limits and tracking your progress in real-time with the target bar.
4 payments with
*
SHOP MORE DOUBLE UNDER SETS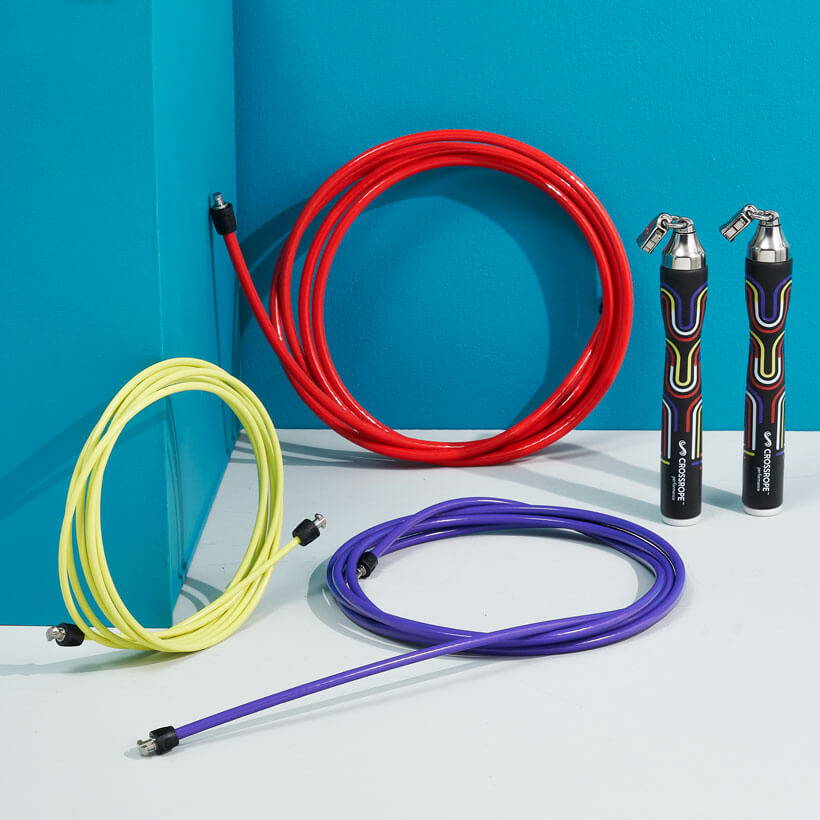 Set new personal bests with lighter, faster ropes.
4 payments with
*
Speed Pro Performance Set (2022)
Train with heavier weighted ropes without compromising speed.
4 payments with
*
The latest WODprep inspired set specially designed for double under training.
4 payments with
*
From our customers
Love it!

AMP adds a degree of challenge and accountability that I benefit from; the extra bit of motivation to push me past my goals.

Clayton L. | AMP Jump Rope Set Customer
Excellent progress

I've been jumping for over 18 months and couldn't get my double unders until I bought the Bolt Set!!! AMAZING ROPE!!! Love the product and the quality!!!

Leanne | Bolt Set Customer
Greatest investment.

Excellent delivery time. Arrived in perfect condition. Love the colors. Definitely adds value to my workouts and will in time, with practice, see an improvement with my speed and double unders with the lighter weighted ropes. Thank you Crossrope Team!

Carol P. | Speed Performance Set Customer
Crossrope AMP.

Excellent quality ropes and handles! Bluetooth connects perfectly. Super fun workout with the app.

Gabriel R. | AMP Handles Customer
Game changer.

Doubled my workout intensity on Strava once I added AMP. I absolutely love it. Makes you want to beat the black bar and show it who's boss. Much like using a Peloton bike - the stats are a blast and it gives you great motivation. Love it!!!

Adam | AMP Jump Rope Set Customer
Only exercise I've been able to stick to!

Got AMP and I love it! I always feel great after the HIIT workouts through the app. Crossrope is the best of the best, and one of the best things I've ever done for my body, mind, and spirit.

Danielle | AMP Jump Rope Set Customer

The Secret To Double Unders
Want to master the double under? With weighted speed ropes, you get the crisp and precise feedback you need to learn this advanced skill more quickly. If you want to take your double under game to the next level, weighted speed ropes are the secret.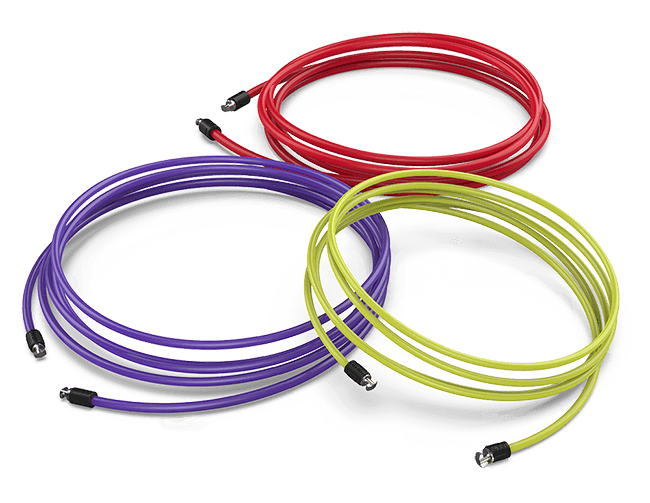 Need help to to conquer the elusive double under? Join the Beginner Double Under Progression Program and Double Under Improvement Program (both included with the Crossrope Membership) to unleash this powerful skill in all of your jump rope workouts.



How is AMP different from the classic Crossrope sets?
AMP is the first-ever interchangeable Bluetooth connected jump rope system from Crossrope. It's built with the same durability and high-level precision engineering as all our classic Crossrope sets, but it now comes with integrated technology that gives you real-time jumping feedback inside the Crossrope app while you're jumping. This offers a more fun and engaging workout for those looking for a more guided workout experience.
How do the AMP handles compare in size to the classic Crossrope handles?
With your AMP jump rope set, you get a single pair of AMP handles to use with all three of your ropes. The AMP handles weigh 5.7 Oz (162 g) each. The handle shape and diameter is about halfway between our classic Slim and Power handles.
Do I need a subscription to use AMP?
Yes, a subscription to our Crossrope Membership is required to unlock the full AMP features on your iOS device ($14.99 $9.99/mo) or ($99.99 $79/yr). With your subscription, you're able to pair your AMP handles to the Crossrope app and take advantage of personalized jump targets, free jump mode, benchmark mode, and all the activity and stats tracking.
The AMP handles without a membership still live up to the high performance standards, but you will not have access to its connected features.
Is Premium the same as Crossrope Membership?
Yes, the Crossrope Membership (formerly known as Premium) is the paid version of the Crossrope App on the Apple App Store and Google Play Store.
Is AMP available on Android?
Yes, AMP is now available for both iOS and Android.
How much does the Crossrope Membership cost?
For a limited time, we're offering a promotional launch price of ($14.99 $9.99/mo) or ($99.99 $79/yr)
.
Are my AMP handles covered by warranty?
AMP handles will be covered by two separate warranty policies depending on the issue. Our
Limited Lifetime Warranty
covers the material and workmanship of the product. In parallel, we offer a
One Year Warranty
on the battery and electronic components inside the AMP handle.
What is Crossrope's return / exchange policy?
We have a 60 day no-hassle returns and exchange policy which means you can try the ropes, use them on any surface, and still return them if you don't love them. If you are purchasing our ropes as a gift, you can be sure that if your gift receiver needs a size or product exchange, we'll be there to help. For pre-orders, our 60 day guarantee is valid starting the day you receive your order, NOT the order date. The policy does not apply to the Crossrope Membership.
Does the return policy apply to the Crossrope Membership?
No, the Crossrope Membership is non-refundable. We recommend starting with the monthly option and going month to month if you are not sure about your investment yet. Annual is the best deal but monthly options are great for those that want more flexibility.
What data is AMP capable of tracking?
AMP tracks your number of jumps, current JPM (jumps per minute), max JPM, average JPM, maximum jump streak without tripping, jumps in each interval, and more!
Love your Crossrope or your money back.
Try for 60 days, worry-free.
Change your mind?
Send your ropes back in any shape.
Free US return shipping, full refund,
no questions.