Welcome to the Jump Rope Fitness Community powered by Crossrope.
This is a free private Facebook group made up of amazing people from all across the globe who share a passion for fitness, health, and jump rope training.
At Crossrope, we strive to keep this community positive and uplifting for everyone. We have administrators and moderators in place monitoring the activities in this group to ensure the community remains fun, helpful, and always inspiring.
Before you get started, please take a moment to read through our guidelines as we are very strict when it comes to the rules. By following our simple guidelines, you will help us ensure that our community remains engaging, encouraging, and respectful all the way through.
The following things are encouraged inside the Jump Rope Fitness Community:
- Thoughtful and enthusiastic conversations about jumping rope and general fitness, nutrition, and wellness topics
- Encouraging posts (always look to inspire others in the community)
- Comments and suggestions about jumping rope/fitness/nutrition
- Asking questions (we'll find someone who has your answers)
- Sharing your personal journey or progress through stories and pictures
- Photos or videos to show off your awesome skills (or your awesome ropes)
- Connecting with fellow members in a positive ways
The following things are not allowed inside the Jump Rope Fitness Community:
- Negative or discouraging posts/comments, hateful language or profanity, spam posts, or harassment of any kind (whether subtle or direct). Any negative, attacking, or rude comments will instantly be removed and the perpetrator will be removed and blocked from the community. Promotional posts will also be removed and the perpetrator will be notified and if repeat offenses occur, they will also be removed and blocked from the community.
- Newsfeed 'hogging' - that means no posting 10 posts/images/videos in a row; we have lots of people in the community and we want to make sure we are respectful of their newsfeed.
- Please respect the confidentiality of all community members. No photos or materials belonging to other community members may be shared outside the group without their written consent. Please do not screenshot or save images or video obtained through the group without consent. Members are permitted to share posts or materials prepared by us and our community moderators/administrators if the intent is to win a contest or educate friends and family about jumping rope. Members are also permitted to share posts and memes from other Facebook groups, however, said shared posts need to add value or contributes to positive community building. If the shared post promotes a profile or a page, or if the post is off topic, the post will be deleted and the member will be asked to review the community guidelines.
- Reaching out to community members via private messaging to promote your business is prohibited. If a member has not explicitly requested information about your business, please refrain from promoting anything to them privately or publicly. Members reported to our group administrators will be warned. Upon repeated complaints, they will be removed from the group.
- Selling, promoting, soliciting, or pitching of any kind (unless when directly answering a community member's question pertaining to fitness-related recommendations). Please note that selling or promoting includes posting about your offers/affiliate codes, online stores, events, etc. Also, note that it is acceptable to point members to meet-ups, recommended fitness apps, diets, equipment, and attire, only if and when members requests opinions or recommendations on such matters. Asking members to contribute to your GoFundMe, charity, or other Crowdfunding initiatives is also inappropriate.
- Links or comments containing sexually explicit content material. Furthermore, sharing links for the purpose of selling or soliciting is prohibited. Shared links must be on topic. Prohibited links will be removed and the member will be warned and asked to review the community guidelines. If a link is shared excessively, the links will also be removed and the member will be notified.
- Create events inside the community without permission. Anyone who does so will have the event deleted and will be removed from the community.
- Content determined to be inappropriate, in poor taste, or otherwise contrary to the core purposes of this community. All posts must relate to fitness and health in some way. Any off-topic or offensive post will be removed. Comments and posts pertaining to faith are acceptable if meant to inspire and motivate, however indoctrinating other is prohibited.
- Though motivational posts with religious tones may be helpful, posts and comments that attempt to indoctrinate others will be removed and the user will be notified.
- We appreciate before and after posts of members displaying their progress and fitness transformations. We require that all subjects wear shorts so as to not display their reproductive organs. In fitness, what is appropriate or inappropriate is very subjective. Due to this subjective nature, we reserve the right to delete posts at our discretion. Feel free to contact us if you have any issues.
- Event promotions are prohibited unless the event has been pre-approved by our moderators (ie. Schekina Israel). Unauthorized event promotions will be removed and the user will be notified.
- Posting affiliate links of any kind (Crossrope included) is prohibited.
- Customer service issues. Please email [email protected] directly for all customer service issues.
Any posts or comments that fall outside of our guidelines will be reported by our moderators.
Once reported, the comment or post will disappear from the group feed and will go into a review process where the administrators will determine how to deal with the reported comment/post and the perpetrator.
First-time offenders may get a warning. Repeated offenders will be removed from the group and blocked.
Grey Areas
Within fitness, there are a lot of grey areas when it comes what is deemed appropriate and what is not. With over 20,000 people inside of our community, we know there are going to be differing opinions on certain topics and it is impossible to please everybody. With that being said, we will do our best to keep things positive and appropriate, but it is ultimately our discretion as to what we choose to allow and what we choose to remove.


How You Can Help:
As the community continues to grow, it's becoming more challenging to keep our eyes on everything.
If you see a post or comment that falls outside of our guidelines, please report the post/comment immediately (see instructions below) and our group administrators will decide how to best handle it.
Note: tagging group adminstrators and moderators or privately messaging them is not an effective means of reporting comments or posts as these are often missed (we get tagged and DM'd hundreds of times). Please use the reporting feature to help us keep the community clean!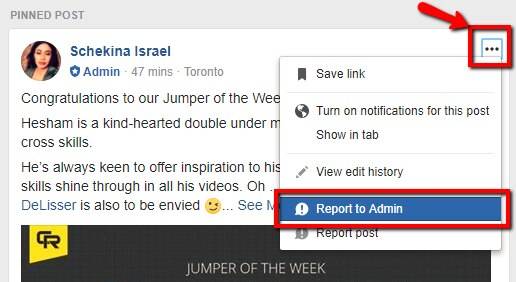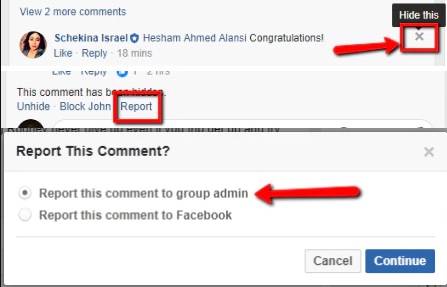 That's it. We're always happy to receive questions and feedback! If you have questions about our guidelines, please don't hesitate to contact us at [email protected].